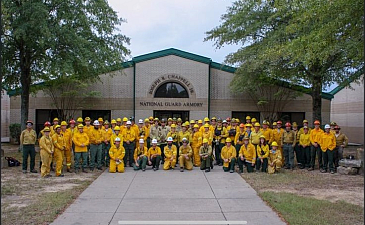 The Arkansas Department of the Military (DOTM) supports the missions of the Arkansas Army and Air National Guards. At Fort Chafee Joint Maneuver Training Center and Robinson Maneuver Training Center (RMTC), soldiers participate in both classroom and field exercise training activities. RMTC houses the National Guard Bureau Professional Education Center and the 233rd Regional Training Institute. Both of the major training installations hold annual training events for one month every summer for all full-time National Guard members and the M-Day civilian soldiers. Forty-six regional Readiness Centers provide training locations for the M-Day soldiers.
Nine regionally located Field Maintenance Shops, a Combined Support Maintenance Shop, and an Army Aviation Support Facility provide maintenance for all Army combat and support vehicles, artillery, and aircraft.
Demonstrating its ongoing commitment to sustainability, the Arkansas Department of the Military committed to reduce its energy usage in all existing state buildings by 2.5 percent each year until 2025. Additionally, DOTM personnel conduct deer surveys, perform population studies on the endangered American Burying Beetle, participate in the Audubon Great Backyard Bird Count, and perform wildlife depredation on nuisance animals such as feral hogs.
The profile information, including pictures and logos, listed here is provided by each member. All rights are reserved. Inclusion on this site does not constitute an endorsement by the State of Arkansas, its agents or departments of the products or services offered by members.