What's New at ADEQ?
Bella Vista Site Update
For updates and information regarding the underground fire on Trafalgar Road in Bella Vista, please visit ADEQ's Bella Vista community information page: https://www.adeq.state.ar.us/bella-vista/. The page contains up-to-date information and answers to frequently asked questions. Resources, reports, and weekly updates can be found on the page's left sidebar. In addition, the Arkansas Department of Health's weekly particulate matter review is posted to the information page under Trafalgar Site Resources.
---
ADEQ's annual environmental awards recognize businesses and organizations in Arkansas for their efforts to protect and enhance the state's environment through three prestigious awards: the Arkansas Environmental Stewardship (ENVY) Award, the Arkansas Environmental Technology (TECHe) Award, and the E² Energy Award. Businesses, nonprofits, and government entities are encouraged to apply. Application forms and more information about the awards are available at https://www.adeq.state.ar.us/poa/enterprise-services/awards/.
---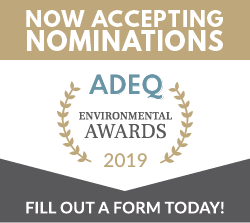 The Beautiful Buffalo River Action Committee (BBRAC) is an Arkansas-led collaborative established by Governor Asa Hutchinson to protect and enhance the Buffalo River Watershed through partnership, research, and action.