What's New at ADEQ?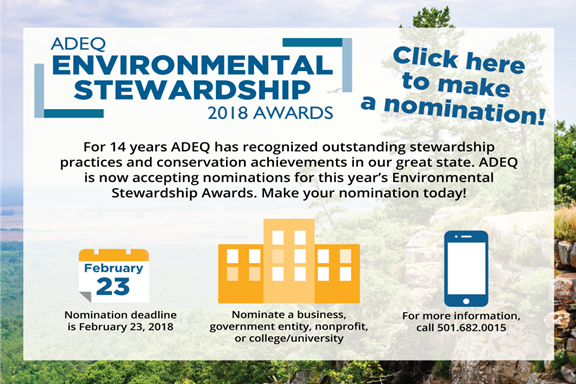 ---
On February 8, 2018, EPA announced approval of the Arkansas state implementation plan elements required for the administrations of programs related to the National Ambient Air Quality Standards. This approval ensures the Arkansas state implementation is consistent with all current standards and specifically includes elements related to the ozone, lead, fine particulate matter, nitrogen dioxide, and sulfur dioxide standards. Read more: here.


---
The Arkansas Department of Environmental Quality is accepting applications through March 16, 2018, for two environmental awards: the Arkansas Environmental Stewardship (ENVY) Award and the Arkansas Environmental Technology (TECHe) Award. Learn more...


---
Click here for documents regarding the Notice of Final Permitting Decision for AFIN 51-00164; Permit No. 5264-W.
The Beautiful Buffalo River Action Committee (BBRAC) is an Arkansas-led collaborative established by Governor Asa Hutchinson to protect and enhance the Buffalo River Watershed through partnership, research, and action.