What's New at ADEQ?
ADEQ has proposed a SIP revision to address transport obligations under Clean Air Act Section 110(a)(2)(D). ADEQ plans to finalize both the infrastructure and transport SIPs upon final adoption of the 2015 ozone NAAQS by APC&EC.
---
Bella Vista Site Update
For up-to-date information regarding the fire on Trafalgar Road in Bella Vista, Arkansas, please visit: https://www.adeq.state.ar.us/bella-vista/
---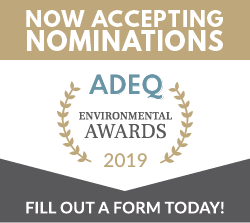 The Beautiful Buffalo River Action Committee (BBRAC) is an Arkansas-led collaborative established by Governor Asa Hutchinson to protect and enhance the Buffalo River Watershed through partnership, research, and action.