What's New at ADEQ?
Meeting Scheduled for the Air Regulatory Efficiency and Streamlining Effort (EASE) Collaborative
ADEQ will host a public meeting on January 22, 2019, beginning at 2:30 p.m. to introduce the Efficiency and Streamlining Effort (EASE) for Arkansas's air pollution regulations. Members for two workgroups will be selected: Regulatory Streamlining & Permitting Guidance. ADEQ will host quarterly public meetings in 2019 to report progress. More information can be found at https://www.adeq.state.ar.us/air/planning/streamlining/.
---
Bella Vista Site Update
For the latest information regarding the Trafalgar Road site in Bella Vista, including links to Governor Hutchison's Emergency Proclamation and ADEQ's Emergency Order, please visit the City of Bella Vista's website.
ADEQ has been engaged with the property owner, federal, state, and local officials, and residents in the adjacent neighborhoods since first becoming aware of the issues at the Trafalgar Road property. ADEQ's visits to the property have been ongoing in order to assess a proper course of action to protect public health and the environment.
After ADEQ's initial inspection, we coordinated with the Arkansas Department of Health (ADH) and Region 6 of the United States Environmental Protection Agency (EPA) regarding air quality monitoring at the site. EPA conducted monitoring exercises in October, November, and December. During those exercises, air samples were collected and tested for constituents of concern. The validated results of EPA's testing have been released and may be found here. ADH has released multiple statements regarding air quality impacts on health and human safety that may be found here.
On December 21, ADEQ issued an Emergency Order and directed the fire to be extinguished and for waste to be removed from the site. EnSafe, an engineering firm, has been contracted by ADEQ to put out the fire, eliminate the smoke, and remove the hazardous substances from the site. At this time, EnSafe is assessing the site and developing a work plan. On January 3, Governor Hutchinson issued an Emergency Declaration. A copy of the Declaration and ADEQ's Emergency Order may be found here.
The State's primary concern at this time is suppressing the smoke and extinguishing the fire safely and as quickly as possible.
If you have comments or questions for ADEQ, then please email trafalgarsite@adeq.state.ar.us.
---
ADEQ's annual environmental awards recognize businesses and organizations in Arkansas for their efforts to protect and enhance the state's environment through three prestigious awards: the Arkansas Environmental Stewardship (ENVY) Award, the Arkansas Environmental Technology (TECHe) Award, and the E² Energy Award. Businesses, nonprofits, and government entities are encouraged to apply. Application forms and more information about the awards are available at https://www.adeq.state.ar.us/poa/enterprise-services/awards/.
---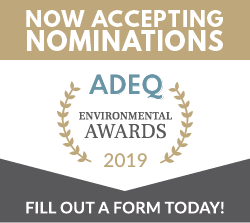 ADEQ is constantly striving to increase the quality of our services for all Arkansans. Please take a moment to let us know how we may help serve you better.
The Beautiful Buffalo River Action Committee (BBRAC) is an Arkansas-led collaborative established by Governor Asa Hutchinson to protect and enhance the Buffalo River Watershed through partnership, research, and action.