Office of Air Quality
---
The Office of Air Quality consists of four branches: Permits, Compliance, Policy and Planning, and Asbestos and Enforcement. Each branch of the Office of Air Quality has specific duties and addresses various aspects of the air program. The branches work together to meet Arkansas's federal obligations under the Clean Air Act; and protect air quality to enhance the lives and health of all Arkansans and visitors to the State, while fostering responsible economic expansion opportunities.
Core Responsibilities:
Developing and implementing programs designed to ensure compliance with federal air quality regulations
Developing state rules governing air quality
Regulating emissions through a permitting program that sets emission limits protective of public health
Monitoring ambient air quality in Arkansas through deployment and maintenance of a statewide monitoring network
Investigating complaints and violations of State and federal air quality laws
Preparing and issuing air quality forecasts
Recent Updates
The 2018 Ozone Season has begun!
Ozone season in Arkansas began on May 1st and runs through September 30th. That means it is important for everyone, but especially people with certain health conditions, to check the Air Quality Index before exercising outdoors for longer periods of time. The Arkansas Department of Environmental Quality (ADEQ) has already begun issuing forecasts for ground-level ozone, which may be particularly harmful to certain groups of people. When ozone concentrations reach higher levels, it can irritate airways and decrease lung function. People at greater risk of experiencing these symptoms include those with asthma, children, older adults, and individuals who are active outdoors. ADEQ has partnered with Metroplan, the Arkansas Department of Health, and the Arkansas Department of Transportation to inform the community about the potential risks from ground-level ozone.
Ground-level ozone forms when oxides of nitrogen and volatile organic compounds are exposed to sunlight. This potentially harmful gas reaches its highest concentrations on sunny days with calm winds. Thankfully, Arkansas continues to experience healthy air quality and is currently in attainment with all National Ambient Air Quality Standards set by the EPA, including for ozone. You can learn more about air quality in Arkansas by reading the Arkansas 2017 State of the Air Report.
Despite the good air quality in Arkansas, it is still important to routinely check the Air Quality Index if you are sensitive to high levels of ozone. Using data from the ADEQ monitoring network, ADEQ reports and forecasts ground-level ozone and another harmful pollutant: PM2.5 (particulate matter less than 2.5 microns in size). The forecast is posted as an Air Quality Index that ranges from 0-500 as well as an easy-to-recognize color system. ADEQ determines the Air Quality Index based on the pollutant of greatest concern for that location. ADEQ issues forecasts for the Central Arkansas and Northwest Arkansas Metropolitan Statistical Areas. You can view our forecasts by visiting AirNow.gov, signing up for email alerts through EnviroFlash, visiting the ADEQ website, or following us on Facebook and Twitter.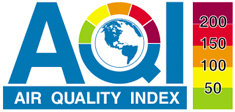 Coming soon, you will be able to obtain our air quality forecasts through the ADEQ app (iOS and Android). For more information about the AQI and who needs to take precautions if the AQI is above the "Good" level of 50, visit the ADEQ Air Chemistry Laboratory webpage.
International Transport of Air Pollution
Global weather patterns can transport air pollution from its origin to anywhere on Earth. An example of this can be seen with NASA's GEOS-5 simulation. The atmospheric lifetime of pollutants can vary from a few days to a few years. Wind can pick up pollution in Asia and transport them to North America. Pollution in the U.S. can be transported to Mexico, Canada, the Atlantic Ocean, and Europe.
Advancements in monitoring, modeling, and satellite detection technology allow us to see that long-range transport of pollutants does occur. Not only is air pollution transported by the horizontal movement of winds, but vertical movements as well. Stronger vertical motions in the atmosphere carry pollutants upward, to the top of the troposphere and as high as the stratosphere. Winds become stronger and faster with height and are therefore able to carry pollutants farther.
Several bilateral and multilateral agreements have been established to address transboundary air pollution, including: the U.S.-Canada Air Quality Agreement, the U.S.-Mexico Border Program, the North American Commission for Environmental Cooperation, and the Task Force on Hemispheric Transport of Air Pollution (co-chaired by the U.S. EPA and the European Commission and organized under the UNECE Convention on Long-Range Transboundary Air Pollution).
Department of Agriculture's Smoke Management Task Force finalizes new Arkansas Voluntary Smoke Management Guidelines for Row Crop Burning to accompany the existing Voluntary Smoke Management Guidelines for Forest Industry and Landowners prescribed burns
Land managers utilize fire in a variety of contexts including forestry, conservation, and in the agricultural sector. While Arkansas is attaining and maintaining all national air quality standards, smoke from fires still contains air contaminants that affect air quality. Facilitating healthy air quality requires an on-going cooperative effort by both land managers and air quality experts. To this end, voluntary Smoke Management Guidelines for forest landowners and prescribed fire technicians, and for row crop farmers, have been developed to provide guidance for safe, efficient prescribed burning that causes as little inconvenience to the public as possible.
EPA Highlights Continued Improvements in Air Quality Trends as Arkansas Experiences Similar Trends
The U.S. Environmental Protection Agency recently released its annual report on air quality, showing the significant progress the United States has made to improve air quality. "Our Nation's Air: Status and Trends Through 2016" documents steady and significant progress made in improving air quality across America over more than 45 years under the Clean Air Act. Similarly, the Association of Air Pollution Control Agencies, in which ADEQ's Office of Air Quality is a member and Associate Director Stuart Spencer is Vice President, also recently highlighted the nationwide improvements in its report, entitled "[t]he Greatest Story Seldom Told." These national trends are consistent with trends that Arkansas is experiencing as documented in ADEQ's annual "State of the Air Report."
* Click to enlarge