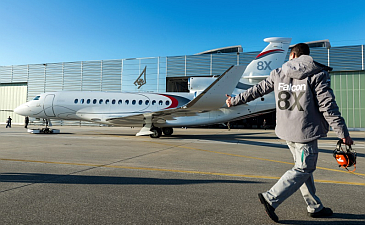 Dassault Falcon Jet (Little Rock) is dedicated to the completion, service, and support of Falcon business jets. Approximately 1800 people are employed in the 1.2 million square foot facility at the Bill and Hillary Clinton National Airport.
Dassault Falcon Jet is a subsidiary of Dassault Aviation, a leader in international aviation and a partner in the United Nations Global Compact: a public and private initiative aimed at generating a more sustainable global economy. Measures implemented by Dassault Aviation are specifically designed to address the Compact's environmental standards. While the parent company's focus is on sustainable aircraft design, efficiency, and manufacturing processes, the Little Rock facility, which is a worldwide completion center and primary service center, focuses on the environmental impact(s) associated with completion and service related exposures.
The Little Rock facility has a long history of environmental stewardship. Dassault Falcon Jet has continually researched and integrated improvements applicable to the company's extensive facility regulatory exposures consistent with its far ranging production operations. Dassault Falcon Jet is also recognized for a history of active participation in voluntary EPA programs, dating back to 1991. Since that time, the Little Rock facility was one of the first aircraft completion and service centers in the United States to be certified to ISO 14001 standards. An Environmental Management System was established to reinforce green considerations within production and across all product lines. This resulted in a decreased environmental impact throughout the production process.
The profile information, including pictures and logos, listed here is provided by each member. All rights are reserved. Inclusion on this site does not constitute an endorsement by the State of Arkansas, its agents or departments of the products or services offered by members.