Electronics Reuse and Recycling
From at home entertainment to online banking, electronic equipment makes our world comfortable and productive. But what happens to electronic products when they wear out or become obsolete and need to be disposed of properly? They become part of the fastest growing component of our daily solid waste stream – electronic waste, commonly referred to as e-waste.
Many electronics contain elements – lead, mercury, and cadmium, for example – that are safe when the items are used as directed but can be hazardous if disposed of in household trash and compacted at landfills.
Consumer electronics become e-waste:
Televisions and computer monitors
Computers and tablets
Computer auxiliary devices
Audio/stereo equipment
VCRs
DVD players
Video cameras
Telephones
Fax and copy machines
Cellular phones
Wireless devices
Video game consoles
Health Hazards from Improper E-waste Disposal
Cathode ray tube televisions and computer monitors contain an average of four pounds of lead depending on size and make. Electronics have been cited as a leading source of mercury in municipal waste. The largest source of cadmium in municipal waste is rechargeable nickel-cadmium (NiCd) batteries, commonly found in laptops, cell phones, and cameras. In addition, brominated flame-retardants are commonly added to plastics used in electronics. If improperly handled, these toxins can be released into the environment, posing a threat to human health.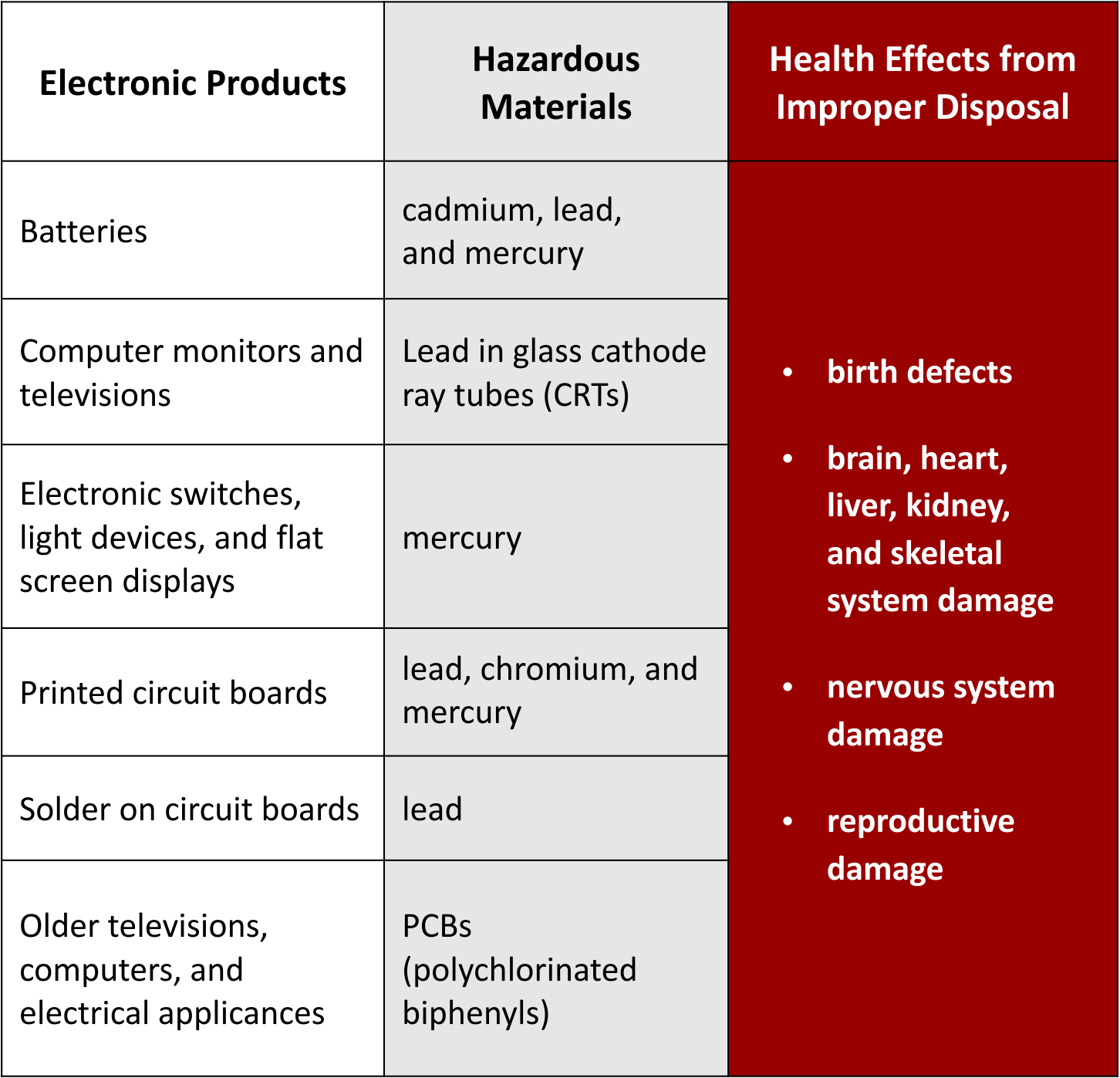 Unwanted electronics should be recycled to recover and reuse the product itself or materials like copper, steel, and glass that the product contains.
Other materials like lead (in the solder on circuit boards; in the glass cathode ray tube [CRT] found in many televisions and computer monitors; in the batteries in uninterruptible power supplies) and mercury (in the fluorescent backlights in many flat panel displays) can be recycled to reuse the materials and to reduce the chance that these toxic materials could be released into the environment.
Arkansas's Municipal Solid Waste Landfills
Realizing the potential effects on Arkansas's environment and people, the state Legislature gave DEQ the authority to ban electronic waste from Arkansas's municipal solid waste landfills beginning in January 2010. This ban has not been put into place yet, so residents can dispose of e-waste with other household items unless restricted by local landfills.
Non-household generators, such as businesses and government offices, may be subject to hazardous waste rules. (Consumer electronics are generally handled as universal wastes.)
Reduce, Reuse, Recycle E-waste
As with other materials, the agency encourages you to explore the three R's – reduction, reuse, and recycling – of e-waste.
REDUCE - Smart purchasing and proper maintenance can extend the life of your equipment.

When possible, upgrade your equipment instead of purchasing a whole new unit.
Purchase a quality monitor that you can keep to use with the next computer you purchase.
Lease equipment so you can trade it in at the end of the lease or when you are ready for new technology.
Protect your equipment by using a surge protector and keeping equipment covered.

REUSE - Equipment that does not meet your current needs may be perfect for someone else.

Purchase used equipment if it is available and meets your needs.
Contact local charities, school districts, libraries or organizations to see if they can use some or all of your unwanted equipment.
Even equipment that is no longer working may be useful to others for parts or technical training.
The first choice for reuse should be any local entities that would take them for reuse or resale. For instance, there may be a used electronics store that would take them on consignment or actually pay you for the items. Charitable thrift stores, including national programs such as Salvation Army or Goodwill, may also take them off your hands. Check your local telephone book for possibilities in your area.
On a national level, there are organizations that will provide a second life for specific electronic items or recycle them to benefit others. These include:
RECYCLE - Most electronic equipment can be recycled, but not necessarily in your area.

Find an e-waste collection center in your area or contact your regional solid waste management district, local elected officials, or sanitation department to see if your community has an electronics recycling center or is planning a one-day collection event.
Check the paperwork that came with the equipment or the manufacturer's website for recycling information and costs.
If the manufacturer does not have a recycling program, check the Internet for other recycling options. Some manufacturers will accept competitor's equipment in their recycling programs.
Spent rechargeable nickel-cadmium (NiCd) batteries can be recycled through many retail outlets. Find out where you can recycle them using the consumer information at Call 2 Recycle.
Search by ZIP code for recycling options using Earth911's iRecycle mobile recycling app.
Computers and other old electronics are accepted at some household hazardous waste collection centers and some recycling centers in the state. Call the one closest to you for more information.
Earth 911 lists a variety of recycling options based on ZIP code. If you are unsure of what to call your item, just type "electronics" in the first box. The search results screen will include a listing of specific items you can search for, as well as the recyclers who accept any of these items.
E-waste Recycling Businesses in or near Arkansas
Contact the following for details about their services and fees:
Many computer manufacturers will recycle computer equipment for a fee. Some will accept only their own products; others will accept equipment from any manufacturer. Check the manufacturer's website for details:
Some cell phone manufacturers also have recycling programs in place. Most of these programs are free; they may even earn money for schools or charities.
In addition, many stores that sell cellular phones and other electronics will accept them for recycling or reuse. Ask about recycling when you purchase a new electronic item.